You don't have to invest thousands in high-tech insulation or a super-efficient furnace to cut home heating costs. Just sealing drafts could lower your bills 3% to 18%, according to Danny Parker, a research scientist who works with the Department of Energy.
Go for durable weather stripping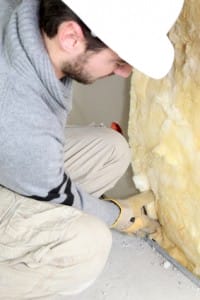 If you can easily slide a sheet of paper between a door (exterior, basement, or attic) and its frame, it needs weather stripping, says Jen Schwab, director of sustainability for Sierra Club Green Home.
Skip cheap self-adhesive foam, which will work loose before the spring thaw. Instead buy bronze strips and cut them to size with metal snips. Fasten them into place with the provided nails, and you'll never have to replace them. (Drafty windows can be sealed, too, but it's very tricky; hire a handyman.)
Install automatic door sweeps
"Sweeps" (draft-blocking strips you attach to the bottom of exterior doors) prevent icy gusts from rushing underneath. But they tend to scratch wood floors and catch on welcome mats as the door swings open.
Try a spring-loaded automatic sweep which lifts up as the door opens and presses down to form a tight seal when it's closed.
Insulate the attic hatch
Pull-down attic ladders are notorious energy losers because they're built with little regard for air sealing or insulation, says Paul Zabriskie, director of EnergySmart of Vermont, a nonprofit home-weatherizing service.
You can fix both problems with an attic tent, an insulated fabric hut you install over the hatch, staple to the attic floor, and zip open when you need to climb through.
Cover your AC
An in-wall air conditioner — or a window unit that's too large to remove for the off-season — will cool your home in the winter, too, thanks to drafts blowing right through.
Order an insulated wrap custom-made to fit snugly over the unit to keep the heat in.
Seal remaining cracks
Close doors and windows, and turn on bath, attic, and range-hood exhaust fans. They'll suck air out of the house, encouraging drafts to rush in to replace it.
Hold a stick of burning incense near gaps, such as where pipes penetrate the wall under sinks and where baseboards meet the floor. Where smoke dances near hidden cracks spray Great Stuff insulating foam; use caulk for visible ones. That's how pros do it.
Got a simple fix for reducing your home heating costs?  Share it with us in the comments below.